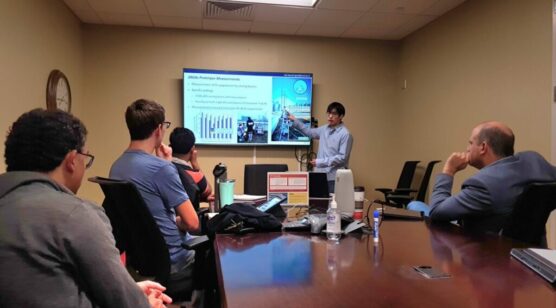 Graduate students
Every year, I try to recruit three graduate students to work on diverse topics. I usually have a combination of research assistantship, teaching assistantship and in some cases fellowship funding available to support highly qualified incoming students. I value diversity of experience.
For Fall 2024, I am recruiting students in my new role at the University of California San Diego. While I will consider applications in all areas, I am especially interested in candidates that want to work on topics at the intersection of circuits and communications, metasurfaces and communications, machine learning for communications, radio-over-fiber and optical communications, and topics broadly related to quantum communications. Do you have an idea of something else cool? Please reach out to me.
To have the best chance of receiving a response, please send a focused email. Let me know your name, universities, GPAs at those universities in the original scale (in other words out of 10 or out of 20 is fine), and any publications. Please include a detailed CV. Please let me know specific areas of interest to you, and the kind of research that you might want to do in terms of theory, practice and implementation. It will also be useful if you share your broader plans after graduation (industry, academia, startup, or otherwise). Many of my students go to industry, but quite a few have gone on to successful careers in academia. Also, it is useful if you identify one of my papers that you like and explain why.
If you are interested in joining UC San Diego and working with me as a PhD student, please reach out via email to rwheathjr@ucsd.edu.  In your email, include the keyword lemon in the subject line for emails related to Fall 2024.
Postdoctoral positions
I am happy to consider applications for postdoctoral researchers. While I do not necessarily have an immediate opening, opportunities for new positions frequently become available. I am also available to supervise postdoctoral researchers who already have funding. The ideal candidate for a postdoctoral position will have a track record of quality publications and will be interested in joining academia or incubating an idea for a startup. Postdoctoral responsibilities include doing independent research with me, mentoring undergraduate and graduate students, assisting with proposals, and helping with presentations.
For 2024, I am recruiting postdocs in areas related to topics such as wireless communications, communication theory, information theory, signal processing, machine learning, circuits, antennas and quantum broadly defined.
If you are interested in joining UC San Diego and working with me as a postdoctoral researcher, please reach out via email to rwheathjr@ucsd.edu. Please include the keyword orange in the subject line for emails related to 2024.
Remotely advised graduate students
I am exploring the possibility of having a limited number of openings for remotely co-advised students who are studying at top universities abroad. The general idea here is that I work with you and your primary research advisor in a collaborative fashion as your official co-advisor. I do not expect to take the role of the primary advisor. Students in this category, though, will work with me in an official capacity not just as a general collaborator. You will be listed as a remotely advised student on my web page and will have similar expectations in terms of research productivity. The general topics and requirements are similar as that listed in the Graduate Students category. The ideal candidates will have an outstanding academic background, have some research experience and be interested in working on complimentary research directions. I expect to start this experiment with one to three students.
The specific requirements for me to be listed as a co-advisor will be university dependent. Be sure that you have already discussed the possibility with your primary advisor or have them reach out directly to me. You should also work with your primary advisor to obtain further information and restrictions about remote advising.
If you are interested working with me as a remote PhD student, please reach out via email to rwheathjr@ucsd.edu.  In your email, please include your CV, a short research proposal, and information about the remote advising feasibility and requirements. Include the keyword lime in the subject line for emails related to 2024.
Collaborations
I am actively seeking to broaden the scope of my research through collaborative partnerships. If you are intrigued by the prospect of working together on an emerging research topic, I would be delighted to hear from you. My primary interest lies in engaging with projects that are still in their formative stages, offering a unique opportunity for joint intellectual contribution. Additionally, I am open to exploring collaborative funding opportunities that could facilitate our collaborative research efforts. To acknowledge the value of enduring collaborations, I will feature long-term partners in a dedicated section on my website. Please note, however, that I am not interested in authorship opportunities for research papers that are already completed and ready for submission. If you are interested, feel free to reach out to me at rwheathjr@ucsd.edu.